Sugar cookie lovers...
Today is our day!
July 9 is National Sugar Cookie Day and I have treats for you!
A few of my favorite bloggers (Bake it Pretty, Cakespy, The Constant Baker, Not So Humble Pie and Sweetopia) helped me put together this fun little booklet full of great tips and ideas for making amazing sugar cookies.
Have a look!
It's free!
It's fun!
Just one request; there are links throughout the book to donate to "The Great American Bake Sale". If you like the book, or use any of the ideas or recipes, I hope you'll donate a little bit. I thought it would be nice to tie National Sugar Cookie Day to a charity and "The Great American Bake Sale" seemed very fitting for this occassion. Their mission is "to make sure no kid in America grows up hungry".
Other Ways to Celebrate:
If you'd like to spread the "Holiday Cheer", here is a special Sugar Cookie badge for your blog!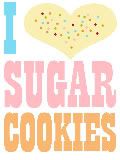 And..
You can join this year's National Sugar Cookie Day Flickr Group. Upload photos of your sugar cookie creations! I'll leave the group open until next year.
Or..
Visit the Flickr groups from 2008 and 2009! You'll be amazed by some of the cookie artistry!
Bake cookies - eat cookies - enjoy this happy day!